The daily dose: How much collagen to take per day for beauty benefits
Marine collagen is a science-backed beauty supplement benefiting skin, hair and nails. An easy on-the-go formula, collagen dosage can be tailored for any ingestible beauty regimens at any age. Discover your ideal dose and see results fast.
Deep within the dermis, collagen is the naturally produced protein responsible for the structure of skin, hair and nails. But from our mid-twenties, collagen production begins to decline. Fine lines develop into wrinkles, skin loses its elasticity and hair and nails become weak and brittle.
By supplementing the body with essential peptides and amino acids, Natural Marine Collagen delivers a bioavailable collagen type 1 and 3 to stimulate fresh collagen production. Skin's youthful qualities are restored, and a healthy environment for nail and hair growth is created.
In this way, marine collagen benefits skin, hair and nail concerns – while being easy and effective to adopt. Here's how to create a personalised collagen supplement routine and find out how much collagen per day suits you best.
How much collagen per day?
Marine collagen recommended dosage depends on age and the severity of skin, hair and nail concerns. Collagen dosage varies between 3 and 9 grams per day – or one to three Vida Glow Natural Marine Collagen Sachets.
In an independent double-blind, placebo-controlled trial, subjects supplemented 2.5g of Vida Glow's Natural Marine Collagen (less than one sachet) and experienced increased skin firmness and saw a significant improvement crow's feet wrinkles, within 12 weeks.
In a second double-blind randomised, placebo-controlled trial, subjects experienced an increase in skin firmness and a reduction of crow's feet wrinkles after supplementing with a higher dose of 5g of hydrolysed marine collagen for 8 weeks. 
Tangible results are clinically proven in 12 weeks with one serving of Vida Glow Natural Marine Collagen – and increased supplementation can even achieve significant improvements in as soon as 8 weeks.
SHOP THE STORY
How much collagen should I take daily?
To find the most effective collagen dose for your skin and concerns, be guided by your age.
For those between 25-35 who want to maintain plump, hydrated skin and healthy hair and nails, take one daily serving. 
Between 36-45 years of age, when the first signs of ageing – fine lines, weak nails and thinner hair – appear, take two daily servings to support and slow the natural ageing process.
Over the age of 46 when a dull complexion, deeper wrinkles, very fine hair and brittle nails are seen, take three daily serves to firm, refine and strengthen.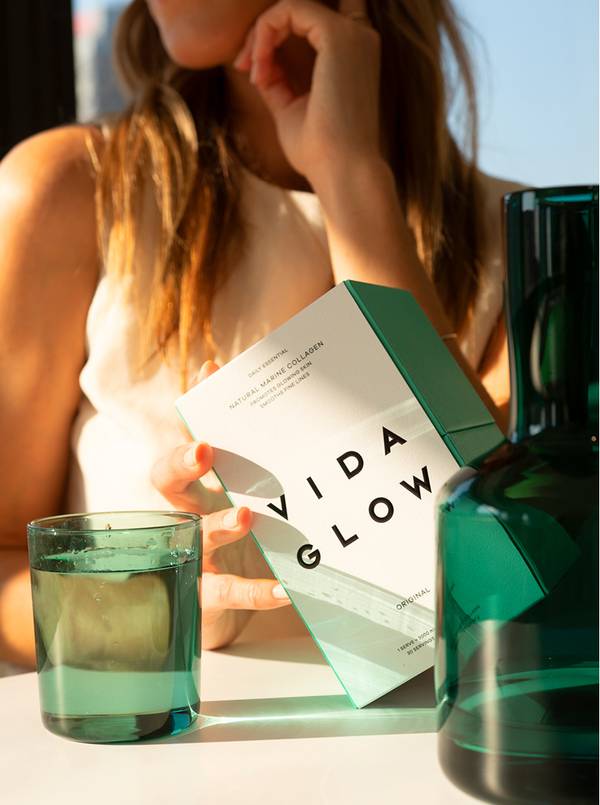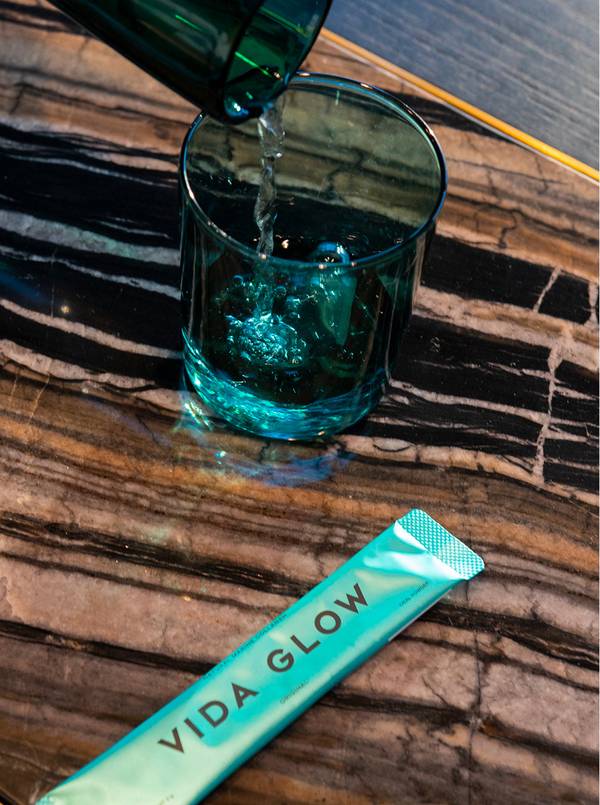 How much collagen a day for skin?
How much collagen per day for skin concerns is determined by your skin and desired speed of results. Skin hydration and the plumping of fine lines are the first results to be seen. So as part of a bidirectional skincare routine, one daily serve is sufficient to enhance skin's glow. 
If skin is losing its bounce and resting wrinkles around the eyes and lips are deepening, improve elasticity and smooth wrinkles sooner by increasing collagen dosage to two daily serves.
For firm skin fast, collagen supplementation can be increased to three daily serves. Split doses throughout the day (morning, midday and evening) for maximum absorption in the body.
How much collagen a day for hair?
Collagen supplementation assists hair growth and thickness by caring for the scalp. To hydrate and nourish the scalp, take one serve of collagen for daily hair maintenance. For an intensive strengthening ingestible hair treatment, increase collagen dosage to two or three daily serves.
Can you take too much collagen?
There is no clinical evidence to demonstrate heightened or faster benefits can be achieved by supplementing beyond 10g of marine collagen per day. So why waste your collagen? Reserve your marine collagen to three serves as the maximum dose of collagen per day. And practice patience.
How long does it take for collagen to work?
Clinical trials of Vida Glow's hydrolysed Natural Marine Collagen show long-term skin benefits with consistent, daily supplementation. After 8 to 12 weeks, marine collagen is proven to increase skin firmness and elasticity and reduce the appearance of fine lines and wrinkles. The fast growth of nails and baby hairs are also some of the first anecdotal benefits to be seen from collagen supplementation.
SHOP THE STORY