Or 4 payments of $31.25 with ShopPay or PayPal
Benefits
- AnaGain™ reduces hair loss by 34% after 28 days (1).
- AnaGain™ reduces hair thinning (1).
- Supports hair growth and maintains hair thickness.
- SkinAx2™ helps to lift and reduce dark spots and circles (2).
- SkinAx2™ reduces visible skin tone imperfections (2).
- SkinAx2™ increases overall luminosity (2)
Hairology Capsules - Always read the label and follow the directions for use. Read the warnings below before purchase.
Active Ingredients
Anagain™ - A trademarked active derived from pea sprout extract. AnaGain™ is clinically studied to reduce hair loss by 34% after 28 days of supplementation (1).
Bladderwrack - Brown seaweed extract with a high nutritional density including fibre, iron, vitamin b12 and polysaccharides. Naturally rich in iodine, it supports healthy thyroid hormones which can help control the growth of healthy hair follicles. Iodine deficiencies occur more regularly in women and often results in hair loss and thinning.
Zinc - An essential trace mineral that most people require dietary supplementation, zinc plays a vital role in hair tissue repair, is good for hair growth maintenance and decreases hair loss and thinning when dietary intake is inadequate.
SkinAx2™ - A powerful, award-winning formula of efficacious natural antioxidants, combining French grape seed and melon extracts, along with a potent infusion of Vitamin C and Zinc. It is clinically studied to increase luminosity by 26%, significantly reduce facial imperfections by 18% and reduce dark circles by 12%. (2).
Carotenoids - Plant extracts that act as antioxidants for the skin to improve tone, firmness and brightness.
Zinc - An essential, wound-healing mineral that helps repair, protect and maintain skin cells.
Vitamin C- A super vitamin that enhances skin radiance by reducing free radical damage, supporting connective tissue repair and promoting overall skin health.
Active Ingredients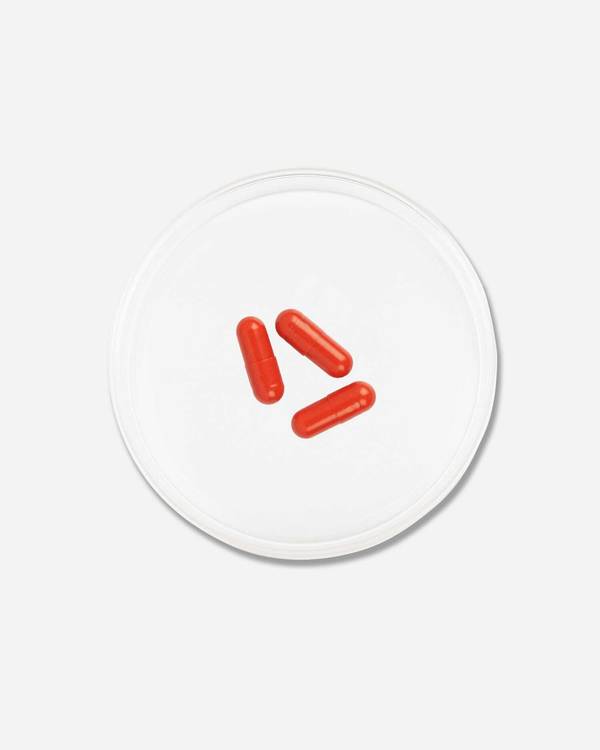 How to use
Hairology Capsules
Take 1 capsule once daily with water, every day. Preferably with a meal.
Radiance Capsules
Take one capsule per day with food, every day.
FAQ
Please find answers to our most frequently asked questions regarding this product.
If your question isn't answered here and you'd like to speak to someone, please contact us.
Hairology is a once-daily beauty supplement for those concerned about their hair's condition. Thinning, ageing hair caused by stress, hormone changes and vitamin deficiencies. Or weak, lacklustre hair damaged by excessive heat use and colour treatments. 
With hero active AnaGain™, and a comprehensive blend of targeted actives and micronutrients, such as biotin, selenium and zinc, it reduces hair shedding and loss, helps support hair growth, and rejuvenates hair follicles for longer, thicker locks.  Unlike other hair loss products, Hairology goes beyond the surface to deliver complete hair health.
No, we do not recommend male and female hair growth supplements, like Hairology if you are currently pregnant or breastfeeding.   
Vida Glow ingestible supplements are formulated with pure, highly potent ingredients that undergo rigorous testing to ensure safety and efficacy. That said, our clinical trials have only been conducted on non-pregnant women.
The best hair loss treatment for women requires diligence. With consistent supplementation, results can be seen in as soon as 28 days. After 8 weeks of daily supplementation, AnaGain™ was able to significantly reduce hair loss by 37%. (2)
Hairology is a TGA-listed supplement for anyone experiencing intrinsic hair loss and thinning. Damaged and lifeless locks, or depleted hair health. With herbal extract, AnaGain™, Hairology's cutting-edge formulation is backed by robust scientific evidence – eliciting visible change to hair and its health.
Radiance, containing targeted active SkinAx2™, is a daily beauty supplement for anyone concerned with uneven skin tone, including melasma pigmentation, dark spots, post-acne marks, dullness or discoloured skin.
Radiance contains a blend of bioavailable antioxidants, plant extracts, vitamins, minerals and carotenoids that reduce the appearance of unwanted imperfections on the complexion and protect against future damage (2).
Yes. Radiance is beneficial and suitable for all skin types. As an ingestible beauty supplement, it works on a cellular level to help resolve dull and uneven skin tone.
No, we do not recommend Radiance if you are currently pregnant or breastfeeding.
When formulating, we always place quality, purity and safety at the forefront of our testing processes. That said, for now, our clinical trials have only been done on non-pregnant women.
No, Radiance does not contain any collagen. If you're seeking a collagen supplement, we recommend 1-3 servings a day of our Natural Marine Collagen.